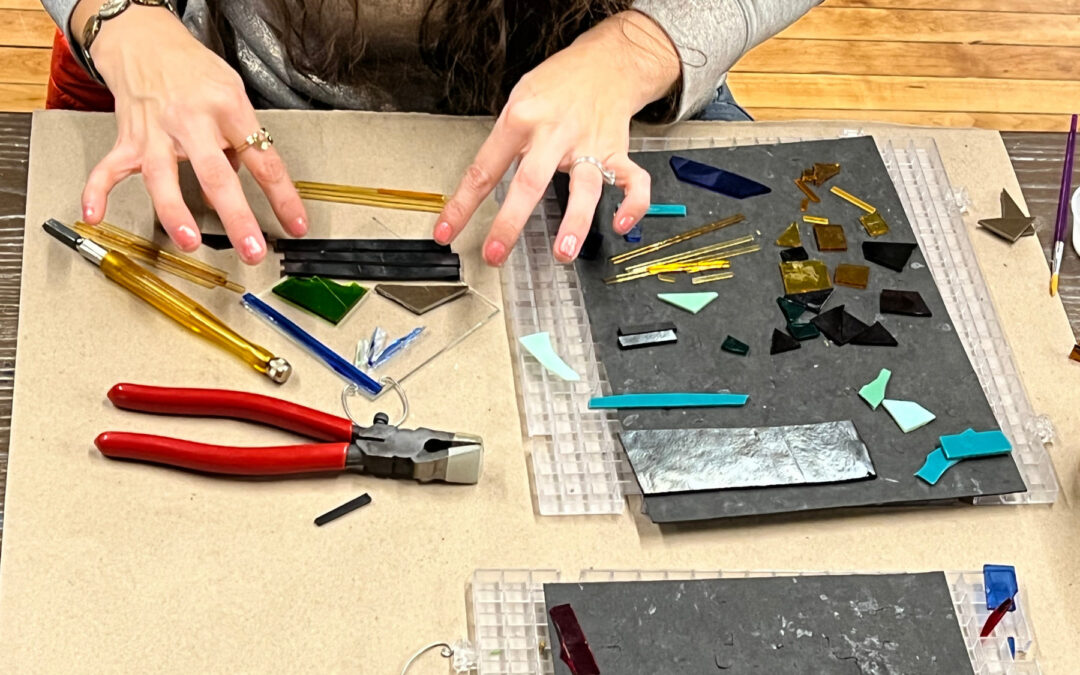 Have you ever heard of glass fusing? The name may sound intimidating, but it is a fairly simple technique that can be taught, perhaps even at your local paint-your-own-pottery studio! Glass fusing requires the same type of kiln as pottery, so many studios opt to offer both. Whether learning basic techniques or making specific items, this medium is a joy to learn.
Glass fusing requires beginning on a flat glass base. From there, you build up in layers, using smaller pieces of glass to make designs and patterns. The glass is run through the kiln once to fuse and can run again to add attachments or change the shape. "Draping" means placing the glass over a tall, thin metal post. This metal can withstand the kiln's heat, and the glass drapes around it while it melts. Once the glass is removed from the post, it has dramatic folds that make dramatic sides of a bowl. (Think bowl as in a ring dish, more so than for cereal). "Slumping" refers to shaping glass with a more shallow mold, similar to draping. Frequently, slumping is done on a curved mold to make a dish whose edges curve upwards. It can also be done to add textures to the glass or melt a bottle down to a flat dish.. Glass comes in many shapes, sizes, and varieties. Some common classes using this medium include sun catchers, pendants, and lanterns.
When taking a glass fusing class, there are many steps to learn and tools to get familiar with. Scrap glass, which will make the fun, colorful pieces you use to create designs, can be cut to the exact shape you want. Marbles can be added for rounded elements, and frit, which is a sand-like glass material, can be used for layering on colors in varying opacities.
If any of this interests you, check out your local studio to see their glass options! Our studio locator can help you find your new favorite place to craft.