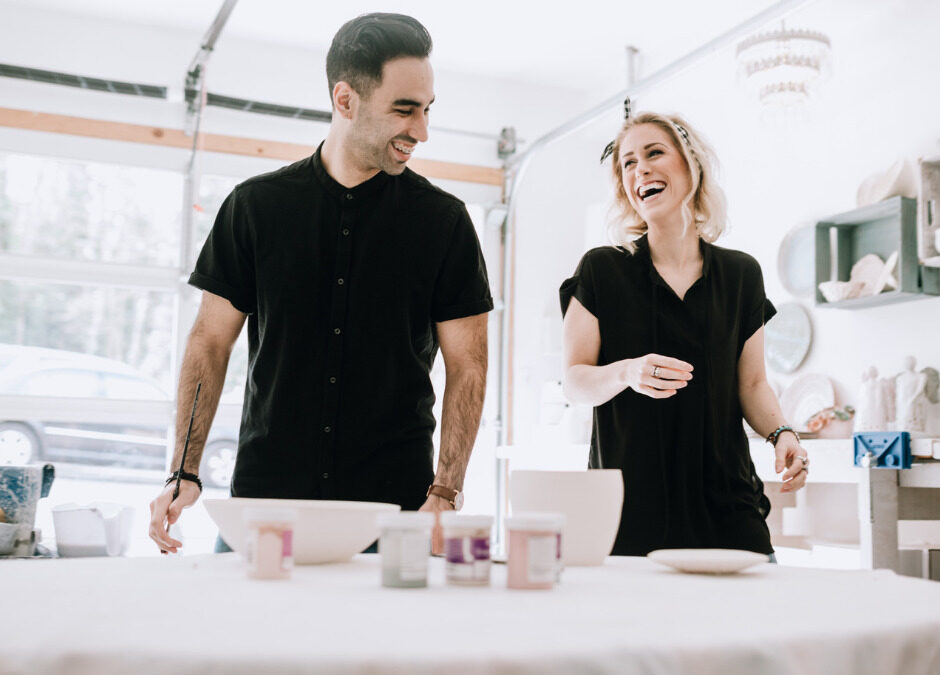 This Valentine's Day, add a new kind of date to the roster: paint-your-own pottery. There is so much romance in creating something together, even if you don't self identify as artists. Find pieces that remind you of each other, create something you can use together, paint a picture frame to hold memories, paint something to trade with the other; there are a million ways to make the experience extra special while showing each other how much you love them.
Most pottery studios get in tons of Valentine's themed items. There are specially designed mugs, boxes, trinket dishes, statues, plates and more. Oftentimes, there are mugs or boxes which connect to make halves of a heart. If your local studio doesn't have the perfect seasonal decor for you, you can still stay on theme by choosing a color palette that speaks to the holiday.
Not looking to get romantic this Valentine's Day? You can celebrate any kind of love with PYOP. Make best friends interlocking mugs, or a gift to show someone how much you appreciate them. One of our favorite little details to add to a piece is a note on the bottom, either painted on or written with glaze pencil. This way, you can tell someone exactly how much they mean to you, and make the gift extra personalized.
If you have little kids and want to make a surprise Valentine's gift for your spouse, we have the perfect project for you. Bring in the kids and pick out your pieces. Choose colors that will smush well together and not create brown, perhaps pink, purple, red and white. Then, let your kids paint (or fingerpaint) to their hearts' desires all over the piece! Once they are done creating their artwork, ask the studio associate to help you design writing to go on top of the piece, something like "I love you," or "Best Valentine Ever," which the custom artist can write for you. This way, when you pick up the piece, the words you chose with your preferred font will make everything look very polished while keeping the original brushstrokes of your kids.
Try our studio locator to find a studio near you!