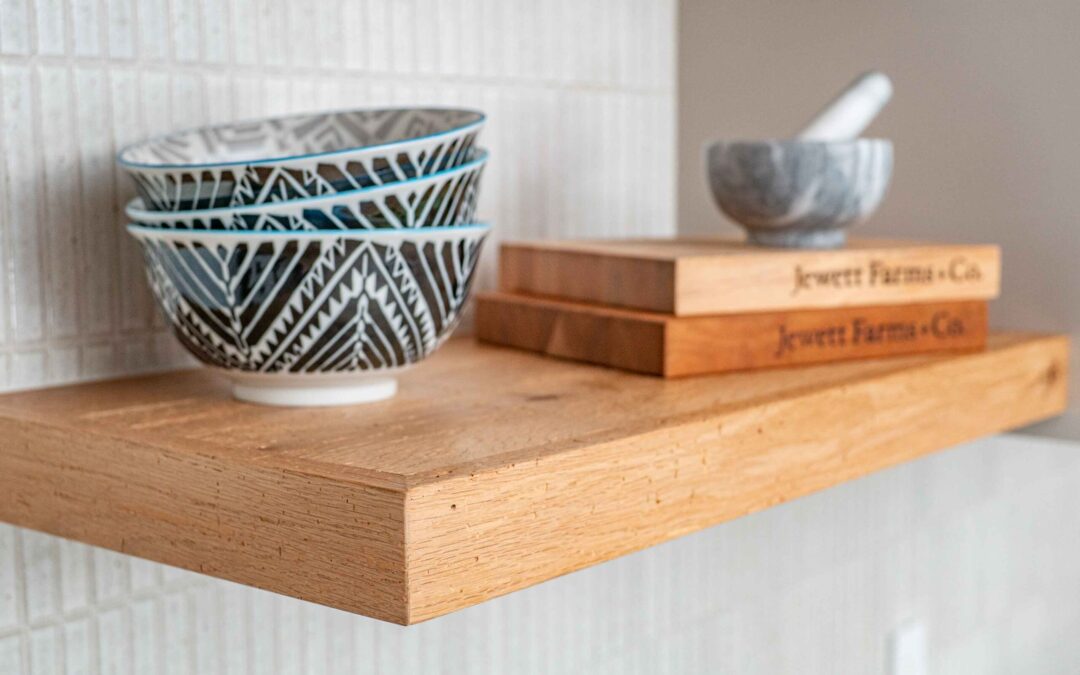 From The Paint Your Own Pottery staff: We were asked by Redfin to share insight into decorating your new home with pottery. Enjoy the blog and all of the wonderful ideas! 
How to Decorate With Ceramics and Bring Your Interior to the Next Level
February 10, 2021 by Julia Weaver
Dating back thousands of years, pottery has always been a popular form of artistic expression in ancient and modern societies. This art form not only creates vessels for holding liquids or serving food, but it also doubles as decoration -an increasingly popular choice for styling your space.
Decorating your home with handmade creations that tell a story and bring personality into your space means so much more. Coming in all shapes, sizes, colors, and textures, it can be hard to know where to even begin decorating with pottery. We've asked artists, from Philadelphia, PA all the way to Sacramento, CA, to share their best piece of advice on how you can easily decorate with ceramics and bring your interior to the next level.
Consider the space you're working with
Do you need a single item or a group of items? Think about how your new piece could reflect your own style. Are you a calm, methodical, quiet being? Or, are you an adventurous, colourful, wild being? Look online and choose a reputable ceramicist that really loves each piece, feel a connection. Search for videos of the process of making pottery so you can really get to know the passion that comes from making. Once you've chosen your piece, remember to measure. Sometimes your vase or bowl can be a lot larger or smaller than you anticipated. I hope you enjoy your piece of pottery as much as I enjoy making it for you. – Karen Easter Ceramics
Have decoration that lasts generations
Pottery is one of the longest-lasting and greatest long-term storage of value in art's history. This is because of the material's unique ability to last through long periods of time. Additionally, since ceramics are oftentimes more affordable, this is a great opportunity to add something to your collection that will age well and become more valuable with each generation. – HomeMade
Learn from the artists and create your own pieces
Make your new house feel like home by displaying hand-painted decor and dinnerware. Visit your local pottery studio to create functional, personalized pieces. It's a fun and relaxing activity – and all supplies and creative assistance are included. – Paint Your Own Pottery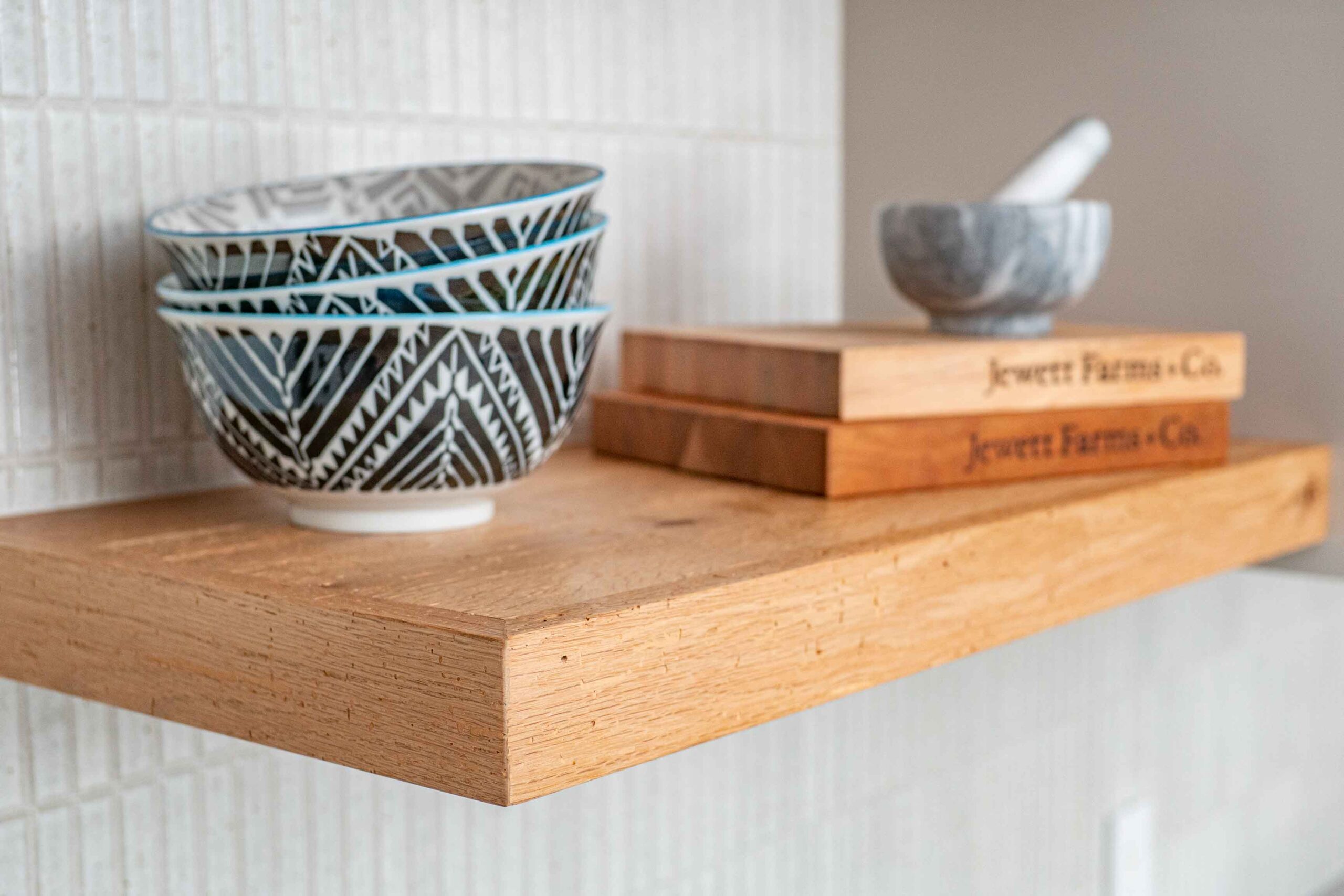 Think outside the box
Begin decorating your home with handmade ceramics by finding unique objects that are not traditionally made with clay. End tables, lampshades, stools, cat toys – these can all be made out of clay and there are makers that do it. You will surprise and impress others when they find out that more than your planters are made with ceramics.  – Mouse Ceramic Studio
Ceramics tell a story about your home
Including hand-crafted ceramics is one way to add texture, character, and a story to your home's decor. We strive to bring beauty and life to everyday tasks through timeless handcrafted creations that are modern, feminine, and refined in detail. Our aesthetic is classic at its core but purposefully ever-evolving. Elevate your space by including a signature wavy bowl on a kitchen island or coffee table, a ring dish on a bathroom vanity or next to a kitchen sink, or one of our match strikers next to your favorite candle in a guest room. – Susan Gordon Pottery
Find a piece that you connect with
Look for ceramic pieces that sing to you, those that resonate, those that are not easy to digest. You know when you have found one of these precious pieces when you continually trace its lines with your eye, when you turn it around and around in your hand, when you make a place for it to live with you. – Summer Hollow Pottery
Consider function, use, and placement
Do you want decorative or functional pieces? If functional, do you want to use the pieces every day or will they be for special occasions? How do you want to display them? On a coffee table, in a sculpture nook, or in a display cabinet? The type of clay that pieces are made from can drive your choices. For instance, stoneware is more durable than earthenware. Raku vases, while beautiful, would not function as a flower vase because the clay is porous. – Kaleidoscope Pottery
Get creative as you display the art
Regarding ceramics, I swear by white vintage stoneware with time patina. I really like to stack them on top of each other when I can, to give them height and perspective, whether pots, plates or tureens. – Brocante Ma Jolie
Begin collecting purposeful pieces
Handmade ceramics offer a unique opportunity to decorate the home with objects that are not only beautiful, but purposeful. A large platter can be enjoyed every day adorning the wall, instead of occupying valuable cupboard space between uses. A charming pitcher on the counter comes in handy for watering plants, pets, and people. – Good Earth Pottery
Accessorize with mugs
A mug can be jewelry for your home and a unique container of warmth. There is something intimate and personal about them. They are quiet witnesses of our everyday rituals and can be used as portals to nourish and connect with our senses. – From Fran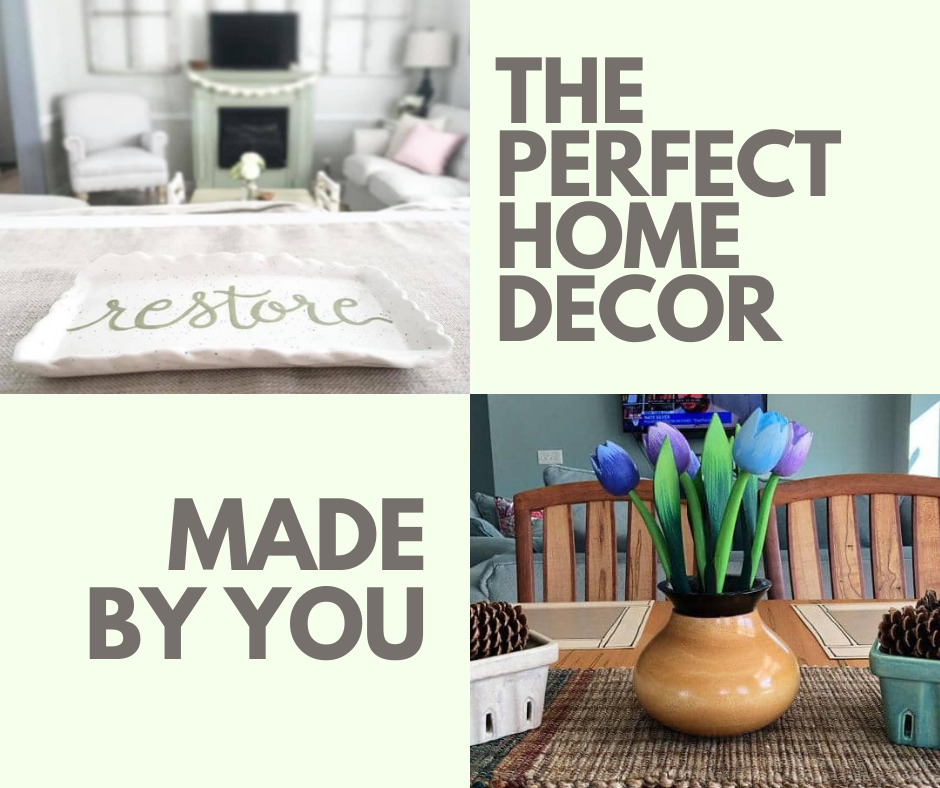 Support local artists while decorating your home
Adding handmade ceramics to your home is a unique way to elevate your space while supporting your favorite artists. When visiting galleries you can find inspired designs featuring an array of colors, shapes, and styles sure to complement your space. From modern to farmhouse, boho to minimalist, handmade pottery can add atmosphere, texture, and life to your home. – The ClayGround
Find an artist that can custom commission the perfect piece for your home
Color, shape, form, texture, you name it!! Anything from an abstract, decorative glazed bowl as a centerpiece for your coffee table, to a planter for your flowers or herbs in your backyard. From a full place setting of plates, bowls, and serving dishes for your formal dining room table, to wine glasses to fill for your guests at your housewarming party, or the perfect statement piece of wall decor for your family to admire every day. I'll not only provide you with a gorgeous piece of ceramic pottery to decorate your home, but can give you a one-of-a-kind piece for that special space in your home. – ENF Ceramics
Treasure your pieces for years to come
Ceramics are a wonderful way to bring art into the everyday, and while pieces from big box stores come and go as we move homes and redecorate, I'd recommend searching for truly one of a kind pieces that you'll treasure for years to come at a local or national clay-centered gallery, many of which are now online. From a serving tray displayed proudly on the kitchen table to decorative planters and vases to liven up your indoor foliage, choosing distinctive ceramic pieces and supporting your local potters will ground your decor and home in the warmth of the handmade, as well as supporting your local arts community. – Shiny Apple Studio
Add pieces with multi-purpose
With the way the world has been going we are spending a lot of our time in our homes, because of this homeowners are becoming more intentional with the items they place in their spaces. The new trend is adding elements in your home with multi-purpose. For example, decorative essential oil diffusers that purify the air but also add an attractive aesthetic to your home. Adding plants is a great way to let nature indoors. Bright and airy colors help make spaces feel bigger. When choosing decor keep in mind how the products benefit your well-being.  Your home is your personal retreat. Retreat, relax, and rejuvenate and let your home help heal you during these difficult times. – Karama