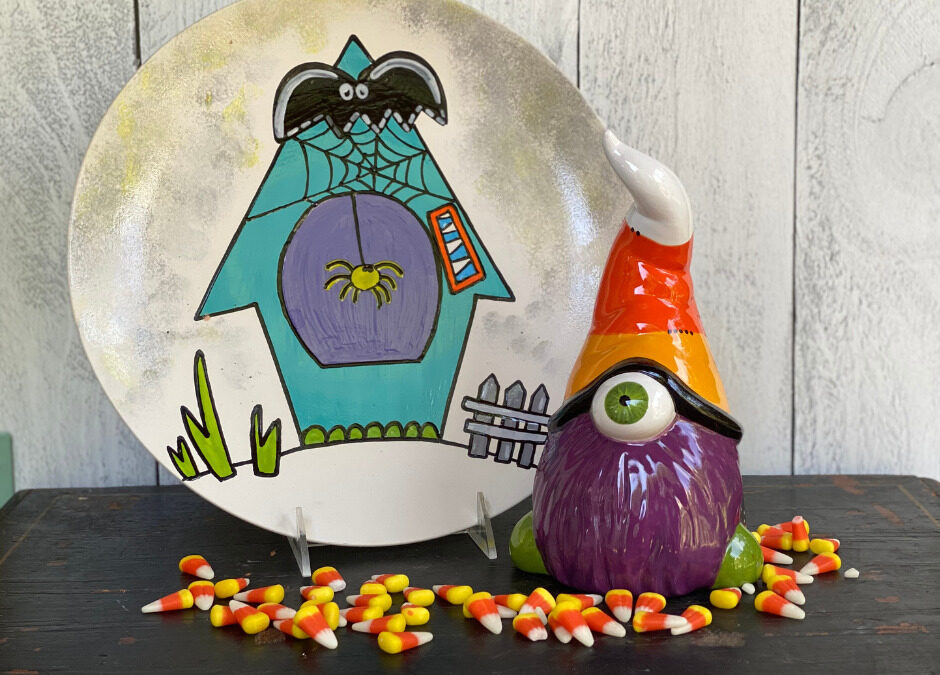 Halloween is on its way, one of the best holidays for the paint-your-own pottery industry. If you haven't been into a PYOP studio around Halloween time before, you'll definitely have to go check it out this year: with ghoulish figurines and lanterns, pumpkins and gourds of all sizes, and monstrous pieces all
around, there are spooky pieces for everyone!
Your local studio will have spooky samples on display to draw inspiration from or copy, and likely stencils or silk screens for very detailed designs. Spiders' webs, ghosts, and other scary details can be added to regular inventory, like dishes, cooking ware, picture frames, etc. There are many glaze
colors to choose from, so you're sure to find the perfect goblin green and bloody red. You can also create small ceramic add-ons, like miniature pumpkins, which can be fused onto any flat pieces – so if you find a dish you like and want to make it more on-theme, no worries at all!
Custom jack-o-lanterns are always a huge hit. Your studio can order varying sizes of jack-o-lanterns, comparable to the size of actual pumpkins, which you can paint however you like. Studios can order them to be custom engraved with names on the top; many families get a large one with
their last name or multiple with the kids' names. Pop in an electric candle once it comes out of the kiln, and you've got the most special pumpkin on the block! And, it will last year after year after year.
So bring your little monsters into your local studio between now and Halloween for loads of themed fun! Try our studio locator to find your new favorite spot.