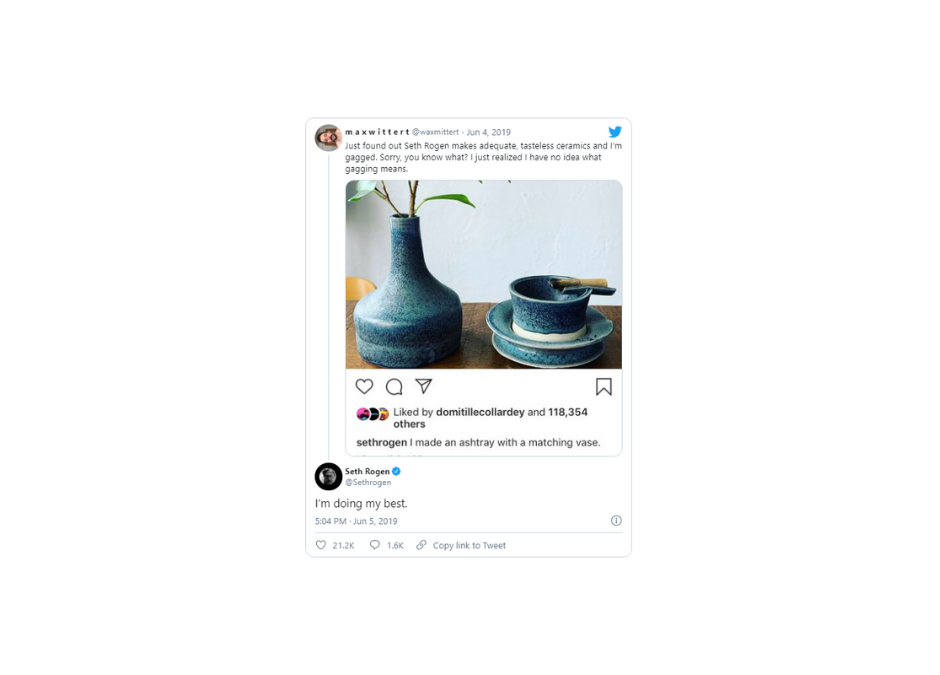 We wanted to share a wonderful article from Artsy. There are several lessons to take away from what transpired.
When I first learned that Seth Rogen had taken up ceramics, I was amped. As an aspiring ceramicist, it was gratifying to see a Hollywood star spreading the gospel of ceramics. And as an editor who focuses on creativity, it was inspiring to see such a celebrity promoting creativity's therapeutic powers. I was dismayed, but not surprised, when Twitter trolls came for Rogen, viciously attacking his sweet vases and ashtrays. But I was more dismayed that there was a need to assess whether or not his ceramics are "good."
Rogen debuted his ceramic creations in mid-April on Instagram. An avid ashtray collector, he posted an image of small, shiny smoking receptacles he made, suggesting he'd enrolled in a ceramics class to learn to craft them. But it was in late May that his pottery started making waves.
First, GQ published a profile on the actor-comedian, in which he discussed his newfound hobby. When the writer Caroline McCloskey joined Rogen at a Los Angeles ceramics studio, he sang ceramics' praises while throwing a pair of ashtrays. "There's something that's so therapeutic about it," he told McCloskey. "It's like yoga, if you got a thing at the end. If you were doing yoga and then some object was produced at the end of it." The following week, he shared a tweet and Instagram post, with an image of six ceramic pots, each one adorned with dainty blooms, and the caption "I made these little vases."
 When some of the actor and comedian's 8 million Twitter followers caught sight of his pots, several took it as an opportunity to intone Rogen's reputation as a stoner. One wrote "You put the pot in pottery," while others drew comparisons between the vessel shapes and bongs. But there was also an eruption of positivity—users deemed the vessels "beautiful," "cute," and "pretty." Others shared their own pottery or celeb
rated the art form; "ceramics is the greatest!" one cheered. Twitter being Twitter, there were haters, too. One of the more popular negative reactions to Rogen's pots called them "adequate" and "tasteless." Rogen replied to the tweet, "I'm doing my best." And that's exactly the point.
Making ceramics is not easy. Anyone who's ever spent time with a lump of clay on a pottery wheel knows that the process comes with myriad challenges—from centering the clay, to getting it off the wheel intact, to finding peace with the reality that your pot could explode in the kiln.
As I've written before, we're living in an age when it can feel incredibly daunting to pick up a hobby, as Rogen did. It's no longer enough to leisurely pursue running or cooking or knitting. It can feel impossible or pointless to do something just for fun, in a mediocre way. We're pressured to accomplish milestones, hone our skills, and document the progress on Instagram. Because of this, it's difficult to wrap our minds around the idea of making art that's not "good." But you don't have to master painting or pottery or any other hobby to reap the benefits of practicing it.
In a September 2018 op-ed in the New York Times about a recent decline of hobbies, author and Columbia University law professor Tim Wu suggested that the daunting nature of hobbies is pushing people to sink their time into social media and streaming TV and movies instead. And as a result, they're missing out on the virtues of leisure activities; they can make us happier, calm, empathetic, and more creative.
When it comes to making art, research has suggested that such activities can improve our mental health. But even so, the fear of making something inadequate that our peers might find ugly or pathetic is very real. For many, this traces back to childhood—a teacher or classmate who poked fun at our earnest scribbles. To get over that hurdle is a matter of trying new things, landing on something you enjoy, and pursuing it regularly. That's not to say you won't feel vulnerable in the process—you probably will.
This is why Rogen's "adequate" ceramics are so great. Intentionally or not, the actor was telegraphing a message to millions of people: that it's possible to make art in a leisurely way; that trying your best is all that's required; and that it's therapeutic. By condemning his ceramics, or even just picking them apart, we're making it far less likely for others to want to pick up creative hobbies of their own.
Casey Lesser is Artsy's Lead Editor, Contemporary Art and Creativity.
Here is the article on their site